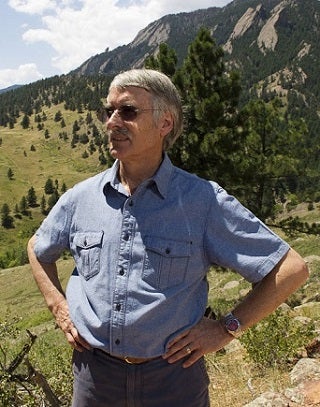 Kevin Trenberth is a highly regarded climate scientist. He has been prominent in most of the Intergovernmental Panel on Climate Change (IPCC) scientific assessments of Climate Change and has also extensively served the World Climate Research Programme (WCRP) in numerous ways, most recently as chair of the WCRP Global Energy and Water Exchanges (GEWEX) project. He has also served on many national committees: a fellow of the American Meteorological Society (AMS), the American Association for Advancement of Science, the American Geophysical Union (AGU), and an honorary fellow of the Royal Society of New Zealand. Trenberth received the Jule G. Charney award from AMS, the Prince Sultan Bin Abdulaziz International Prize for Water, the AGU Climate Communication Prize, and in 2017 the AGU Roger Revelle Medal.
In 2003, then UCAR President Rick Anthes presented Trenberth with the distinguished achievement award for "his leadership in climate research and communication of climate science on local, national, and international levels." According to the judges' citation, 'It is fair to say that climate science and environmental policy around the work would not be the same without Kevin's contributions.' In 2009, the Financial Times of London ranked him as one of the top 10 climate scientists in the world.
Trenberth has published over 567 publications plus 4 videos; including 67 books or book chapters, and 280 journal articles, and many blogs. His work is highly cited, in fact he ranked first in the broad category of Earth & Environmental Sciences, out of 223, 246 scientists who have published 5 or more papers from 1996 to 2017.. Additionally, he has given many invited scientific talks as well as appearing in a number of television, radio programs and newspaper articles.
Research plan
My research plans for the next few years will be more as a collaborator and mentor. In addition, I will continue to review a large number of publications as I receive requests from the media and others for commentary. I will also collaborate as an affiliate with the University of Auckland, where there are four faculty in atmospheric/climate science in the Physics Department. I plan to work with them and their students in an advisory capacity. 
A primary project is to write one or more books. The topic is "Changes in the flow of energy through the climate system" or similar title. I will also continue my collaboration with scientists on ocean heat content trends and on salinity changes.