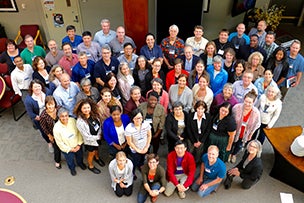 September 21 - 23, 2016, Boulder, CO
This meeting brought together leaders of Research Experiences for Undergraduates (REUs) from more than 55 universities and organizations across the nation to share best practices, build community connections, and address national incentives.
The workshop agenda was developed using community input on topics and the format, and was rich with discussion group sessions. Most of the workshop was streamed to webcast; links to recordings are provided below.  Additionally, you will find materials and notes alongside the recordings.
Creating an Inclusive REU: Plenary Session Talks
Recruiting and broadening participation (plenary session)
The Role of Minority Science Societies (plenary session)
Battling the GPA Bias (17:54) - Marianne Smith (or PPT / PDF) (plenary session)
Sexual Harassment Prevention
Creating a safe workplace in your REU: Title IX and sexual harassment (27:43) - Lisa Rom & Rebecca Haacker (or PPT / PDF) (plenary session) ​note: Q&A session begins at 20:42
Evaluating and Improving an REU
Geoscience Career Awareness and Professional Development
Running an REU Breakout Groups: Reporting Out and Documents
Related Links
If you are interested in learning more, please contact Val Sloan.

This workshop was hosted by UCAR and was funded by the National Science Foundation's Geoscience Directorate.   
Date of the event: September 21, 2016 - 5:00pm to September 23, 2016 - 5:00pm